Oh thank heaven for Friday, good music and 7-eleven coffee!! I hope you all have a great weekend in store.
Cheers!!!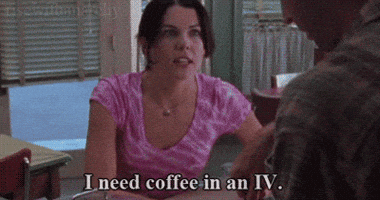 Yep, guilty as charged. You have to admit coffee in an IV would be fantastic, though.
Let's cut straight to the chase with this week's favorites!
–Off the shoulder chambray…and pretty much anything this girl wears, ever. Super sassy and fun for summer.
-Janelle Monae's song "Yoga". And hello, this video is so hot. We must learn all of the dance moves.
-I am on a lettuce wrap kick lately thanks to my girl Maddie…these turkey taco wraps were perfection with some avocado and crumbled goat cheese.
–Summer porch drink? Holy deliciousness. I need this in my hand now for a poolside treat.
-This scent…Endless Weekend from Bath & Body Works. Truly makes me want to have another long weekend…STAT.
-Coconut oil and not to cook with. Although it's pretty good for that too. But it feels amazing when you put it on your skin! Try it. I like the one from Trader Joe's.
-Cooling off this week at some Yelp events (add me if you're on there!!) this one was at Bravo Cucina Italiana. Beautiful place. Just kickin it with my girl Kendall.
-These Sweatpants and Coffee posts…if you are a coffee lover you must follow her on Instagram. Hilarious.
-Anything Real Housewives of Orange County related. I have to say my favorite character right now is Heather Dubrow. Just because she is so fancy.
-Signing up for this race next month. Feeling hothothot!! Can't wait to run 13.1 in the straight up SUN.
That's all for now! Have a great weekend!
What are you up to this weekend? Does anyone have a rockstar summer race?