Hello there! How was the weekend? Hope you were able to get outdoors and do something fun. I got my morning started teaching a cycle and strength class at the gym. We rocked it out with some deadlifts and squats at the end. Nice way to get Monday going.
And yes…the sunrise was quite awesome so I had to take a quick snap in usual fashion.
This weekend I had a big 20 mile run on tap! My 2nd one for the marathon training season. I started pretty early which was awesome because it was so quiet and peaceful outside. It was nice to be done before things started heating up. So thankful for temps in the 70s a majority of the time.
After the run it was mostly maxin' and relaxin' while resting the legs. I had a little bit of tightness but I did some yoga in my living room which always helps get the kinks out. Pigeon pose is one of my favorites for stretching those hip flexors.
I treated myself to a little trip to Lululemon too. Colorful new shorts and some speed socks for the win.
That night I went to man friend's house and we watched a bit of the Cowboys preseason game and he made chicken pasta. Oh yeah, I love a man that cooks. You feel me? Nice way to refuel.
Sunday was real chill which was perfect. Exactly what I wanted. Running…church…and iced coffee makes for a perfect Sunday.
I took mama to a beauty mixer too that my hair stylist Brittany was hosting! There was wine, snacks and we got our hair and makeup done for free. Win win situation. Love this girl.
In a perfect world I would have a 24/7 hair and makeup crew. I'm just saying. They did some contouring. I seriously need to get with the times and learn how to do fancy makeup tricks on my face. Someone teach me how.
Oh and to end an awesome weekend…I was excited to see that I racked up a total of 50 miles in training last week! Oh happy day. That calls for a celebration of some sort.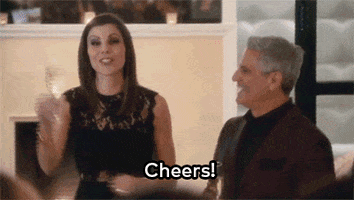 Hope you have a great week! Make your Monday awesome.
How was your weekend? What fun things (or mischief) did you get into?