Well hey there! The weekend is back around again after a fairly short week of work. Cue the happy dance.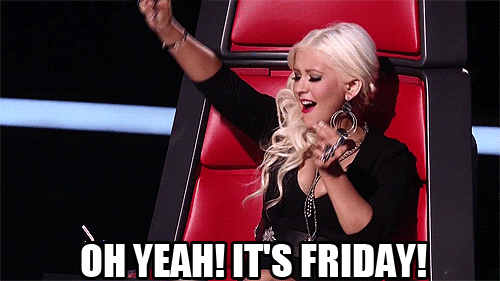 So excited for the weekend…I see lots of play time going down and enjoying some temps in the 80s finally! So hallelujah for that.
Let's get to this week's faves!
–What Steve Job's morning routine taught me about focus. Definitely keeping this in mind for everyday. Still working on the whole being present thing. That is so important.
-This plaid blanket scarf for fall. I must track it down. Actually I like this whole look really.
–Automatic garage door blows toddler's mind. Freaking adorable.
–Vegan no bake brownies from Bubbles and Booyah. Girlfriend is always killing it in the kitchen with some vegan awesomness. Plus her blog name is just fun to say, right?! Check her out.
-Coffee with a straw. Because why not.
-The Woodway treadmills at the gym. I've always wanted to run on one of these although these days I'm not much of a treadmill person. I just kind of want to be outside every darn day, you feel me? But…I'm kind of digging the slogan 'for the long run'.
-And yeah…this is why I'm not a treadmill person. This view. Take me away.
-This on the back of my mango kombucha. Love love love.
That's all for now! Catch ya on the flip side.
What people/places/things are you loving on this week?