7 miles this morning before the cold drizzles of rain came through! Legs I have to say are feeling pretty good since yesterday's hilly 8 miler. Lately I've been enjoying the challenge of hill repeats…getting ready for the 50k course in February which will be mostly rolling hills. Yes, those bad boys are speedwork in disguise…for sure.
I have yet another post workout green power booster for you today! One of the things I love the most about including spinach in my smoothies is that you really don't even taste it. Plus, spinach is such a great superfood for runners. Who knew?
Good stuff…I think even former housewife Brandi is convinced.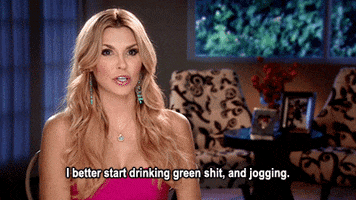 Here's what you need for this green concoction.
-2 cups of fresh organic spinach
-1 banana, chopped (freeze if you want your smoothie to be nice and ice cold!)
-1 scoop of protein powder (I always use this vegan protein one)
-1 cup of unsweetened vanilla almond milk
Blend and serve! Preferably after jogging…no, I mean running.
What's your favorite post workout smoothie lately?