Hello and happiest of Fridays to you! Hope you all have some fun plans on this Valentine's Day weekend. I am going to a V-Day cocktail party with the man friend, running and going to YOGA! Yes yes can't wait for that.
Yes…let's namaste it up.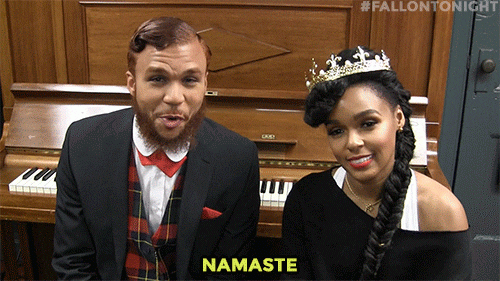 On to this week's faves!
-Quinoa salads & kombucha from Whole Foods…I am simply hooked. There goes my paycheck.
–The most romantic quotes…with a running twist. Loving number 1 and number 9.
–5 secrets to a long happy life according to this girl's 91 year old grandmother. Great advice. I actually have a great aunt who is 95 and this reminds me a lot of her.
-Leopard leggings…I found these on pinterest but have no idea what brand they are. Must track them down.
–The bright side of running in the dark. And YES…I do feel like a ninja with my running group/ninja gang.
-All things mardi gras…I actually found this pic of me from when I was visiting New Orleans for the Rock n Roll/Mardi Gras marathon in 2011…such great memories.
Have a great weekend!
What are you up to this weekend? Any Valentine's Day fun?