Happy Monday! I'm sitting here sipping my tea and feeling invigorated after some morning miles, some strength work and a little sauna session. Great way to start the day!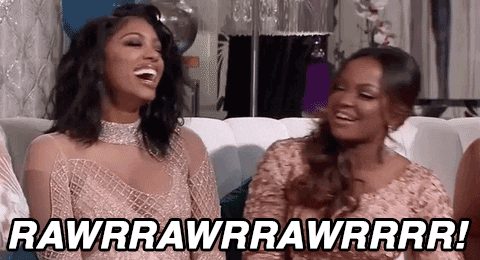 Yes…just like Phaedra, I am awake and ready to bust out a RAWR. Ha!
With that said, let's back it on up and recap the weekend, shall we?
This past weekend was pretty fun and filled with friends, brunching and of course running. I did a 12 mile run with the Irving Running Club early on Saturday.
This was somewhat of a taper run for me since I'll be pacing the Irving Marathon this upcoming Saturday. Can't wait for that! I've been a pacer 3 times (for half marathons) but this will be the first time I'll be pacing the full gusto 26.2. I am thinking of wearing a party tutu and a disco ball on my head…HAHA just kidding, or am I?!
After the run I met up with my girl Natalie for brunch…you know it's not brunch for me unless I have my eggs benny. It did not disappoint. YUM.
Always a good time catching up with my homegirl…I have known her forever…she is like my sister from another mister.
I went to a housewarming party later that day with man friend and was pretty much in bed by 10pm. It felt good to get some good rest though and kind of sleep in a bit.
Sunday funday runday…some easy recovery miles with the crew. Fly kicks with some mimosas in the parking lot after. Good times.
Then I did a little grocery shopping, and froze a batch of no bake energy breakfast bites (recipe to come!) These were super fantastic. My running buddies are going to love me come tomorrow morning.
How was your weekend? Did you make anything fun in the kitchen?