Hello Friday! I don't know about you but I am ready for a few days off to let my hair down and get my dance on. Kinda like this girl. Friday calls for a dance party for sure.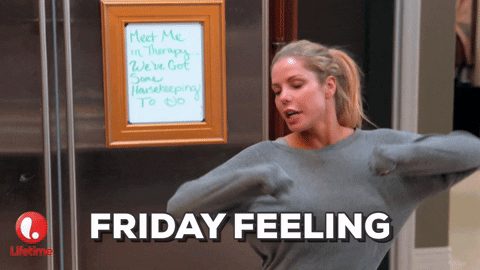 Let's just cut straight to the chase with this week's faves!
-Wearing my Rock n Roll San Diego shirt on the run this week. I think I left my heart in California! Good thing I've already signed up for the marathon next year.
–Run Your Own Race. Yes. Always this. I can dig it.
-Coffee humor on Pinterest. Why oh why don't I ever get tired of Pinterest? I've been pinning all of the coffee things lately.
-Thursday morning track party. I'm in love with rocking out to songs on my Spotify and doing some speedy strides on the track. I'm going to have to throw in some Yasso 800s soon.
–Coldplay's Hymn for the Weekend. Just cuz it's super catchy.
What are you up to this weekend? Who is long running it or doing a summertime race?