Monday mood. Yes this is totally me right now! Hope you all had a great weekend. I was able to get some running in, fabulous brunching and such! Let's do a quick recap.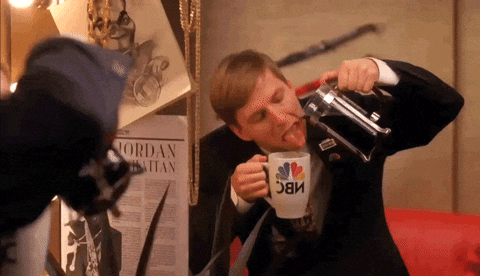 My weekend started off right with a 17 mile jaunt in the 'hood. The IRC crew was in full effect. Lots of us are training for different marathons right now…Chicago, Marine Corps Marathon (which is my next one!), the Dallas Marathon (and then this one which is in December) and etc. Can you find me?
So we were all hitting some serious mileage that day. It felt good to get it done. I'm happy I stayed around a 9 something minute pace for most of the run.
Seize the day. Yes that is one of my many mottos.
The rest of the day was mostly chill…I got in a little r & r and then celebrated a few friends birthdays. Lots of yummy eats were involved.
Good times later with childhood friends! Love this crew.
Snapchat selfies for the win.
Then some karaoke fun. I sang Killing Me Softly by The Fugees! You know everybody has their 'go to' song. Well, that is mine. Fun fact I was in a pageant when I was 15 and I sang this song for the talent portion. It has stuck ever since.
Sunday morning came around too fast but thankfully I got to sleep in just a bit before stepping out for a 10 mile run with more IRC friends. Nice and easy.
Of course I was good and ready after church for a delicious brunch at this awesome place.
Just chillin' on the rooftop with my girl Tricia before calling it a day.
And celebrating another high of weekly mileage…61.2 miles. Woot woot.
How was your weekend? Who is ready for Labor Day weekend already?
*raises hand*