Busy morning but I thought I'd check in because I love ya'll. I do, I really do! I've got a hot spin cycle playlist for you today. Check it out.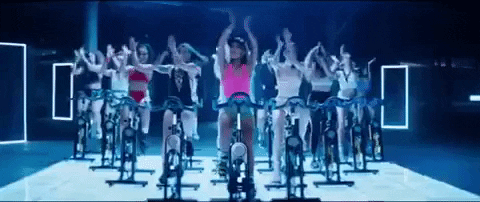 If you're in the area come check out a class sometime! I teach at the following locations weekly in the Dallas/Ft. Worth area.
Let's go for a ride!
Vibe- Jojo: Warm up
Universal Mind Control- Common: Jumps
La Loca- Milomilo feat Makla: Accelerations
Get Ugly- Jason Derulo: Tapbacks
Greenlight- Pitbull feat Flo Rida & Lunchmoney Lewis: Climb 4/5/6
We Own the Night- Wolfgang Gartner: Climb 5/6/7
Right Now- Rihanna feat David Guetta: Sprints
Sweet Memories- CID & Kaskade: Rolling hills
Don't Wanna Know- Maroon 5 feat Kendrick Lamar: Jumps on a hill
Hardcore- Dombresky: Standing sprints
Can't Feel My Face- The Weeknd: Active recovery
Push It- Rick Ross: Climb 6/7/8
I Don't Mind- Usher & Juicy J: Climb 7/8/9
Balll- T.I.: Sprints
Walk it Out (Merengue Remix)- DJ Unk: Climb 8/9/10
Day & Night- Majid Jordan: Cool down
What songs are you loving for sprinting/high intensity workouts this week?
Random confessions today?
I have to dance in the office to get through the day. It's therapeutic. And yes, I share an office with several other people. No shame.